The Curvy Stout Tote is a strong and useful basket with a woven solid base. The spirals are interwoven with contrasting colors to create the design and add texture. You will focus on creating round corners and a curvy shape. Your basket will be finished with a pair of leather handles in contrasting or matching color and a cloth liner.
Monday, October 28th                        from 9 AM to 5 PM
The "Twill Bucket" is created with a basic diagonal weave. Contrasting colors with a variety of reeds add texture and an eye-catching design. Your basket will be finished with a beautiful hand carved oak swing handle.                                            This project is fun and impressive!                               If you can count to three, you can "Twill"!
Tuesday, October  29th                   From 8 AM to 5 PM
CLASS NAME.       WOVEN 3-D TEXTURE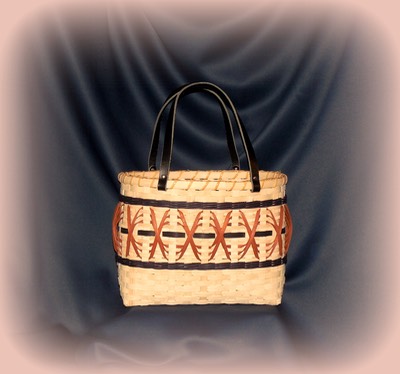 TOTE of STARS Class Name: Woven 3-D Texture
Texture and contrast is the theme of "Tote of Stars". Triple Weave and the woven stars create the texture. The stars are a woven set of three nesting tightly on top of each other giving the illusion of three dimensions. Contrasting colors, comfortable leather handles and a cloth liner will finish your very useable tote!
Wednesday, October 30th      from 8AM to 5PM