SHAKER SALSA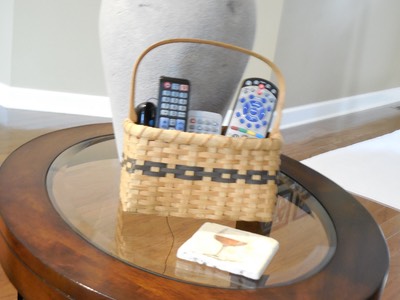 MAIL WALL POUCH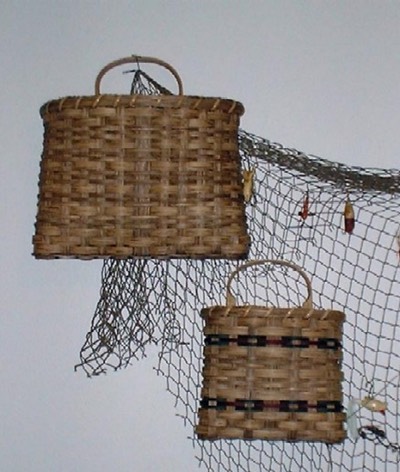 MAGAZINE BASKET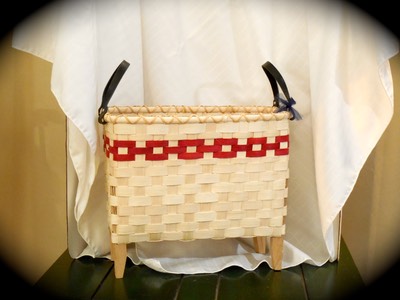 SHAKER SALSA:  This basket has a woven solid base and a hand carved handle. Perfect size to hold two small salsa or jelly jars.The finished size is approximately 8.5"long by 4.5" wide by 4.5" tall excluding the handle. Kit price $16.95  
MAIL WALL POUCH W/LEATHER HANDLES:
Great basket for beginners! Easy and quick to make. This wall pouch is accented with a leather handle  The leather handle makes it easier to hang on the wall. The size is just right for mail or even dog leashes. The finished size for small pouch is 8" long by 5" wide by 7.5" tall. Price for the small kit is $22.95. The finished size of the large pouch is 11" long by 5" wide by 9" tall. Kit price $25.95
MAGAZINE BASKET: This is a great large basket that weaves up quickly! Not only will this work well for magazines but also your favorite craft projects including quilting, knitting or other hand-work. The legs on the basket keep your projects at a comfortable height for easy reach.  The finished basket measures 15" long by 8" wide by 13" tall including the feet. Kit price $49.95.  Limited quantities in stock! 
STAR WALL BASKET

STAR WALL BASKET: This is a quick favorite basket of many of my new students. You start with a simple wall basket and learn to add a reed handle and accent the front with stars of a contrasting color. My favorite way to use this basket was a suggestion from my dad. He had one hanging at his bedside to hold tissues, his reading glasses and cleaner for his glasses. The finished size of this basket is approximately 7.5" long by 2" wide by 5.5" tall. Kit price $13.95.
NESTING CATHEAD BOWLS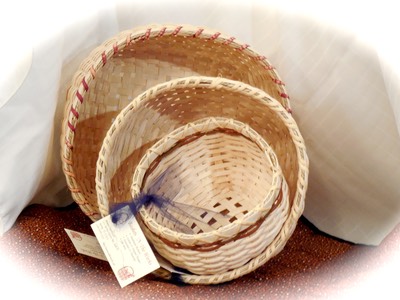 CATHEAD BOWLS:
This kit is available in three sizes-small, medium and large. Fun quick baskets that make great gifts! The large bowl is perfect for fruit. The medium and small size are both perfect for rolls or biscuits. All three baskets do nest in each other. Limited quantities available. Large measures 37" circumference by 5" to 6" tall. Medium measures 32" in circumference by 5" tall. The small basket measures 23" circumference by 4" tall. Kit price for small $13.95, for the medium $16.95 and for the large $18.95. 
MEDIUM CATHEAD BOWL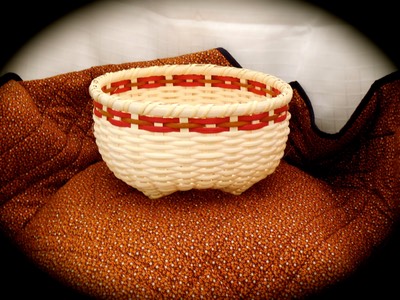 COUNTRY LUNCHBOX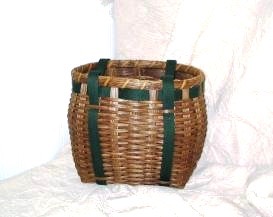 COUNTRY LUNCHBOX: A very cute basket shaped like a purse. Kits woven with leather handles and dyed reed for accent color not with the shaker tape as shown in the picture.  This is a great basket to learn and have fun shaping. The finished size is approximately 8.5 " long by 7" wide by 7.5" tall. The kit cost $26.95. Limited quantities in stock! 
Please order early and remember all quantities are limited. Order three or more kits and receive free shipping!